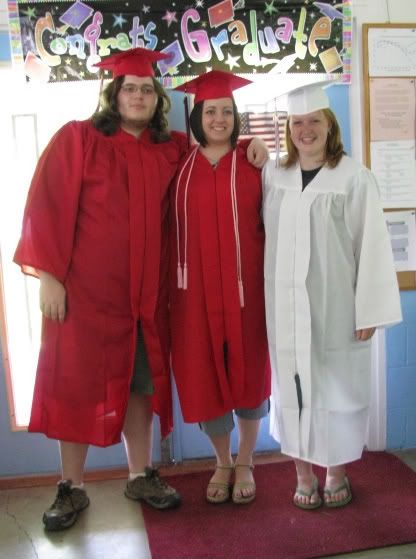 This past Saturday, we had a "family" grad party since we have 3 high school grads this year. (In case you hadn't figured it out, that's them, in the photo above *lol*). Mine's the one in the middle & was the only "true" grad on Saturday since her ceremony was Friday night. A lot of people expected us to be in tears - and I even wore waterproof mascara to the ceremony, thinking all those people were right. Instead, we were celebrating! No more GMHS nonsense EVER again! But, more on that at another time.
Saturday was fun - a bit too long for me - and attended mostly by people I (nor K) know well, if at all. But, it was a nice day & fun to catch up with a few people. K & I stopped by a friend's grad party on our way home, then she went to another with some high school friends. T hasn't been feeling well, so I wanted to be home with him, rather than out partying.
K found out Sunday that Tiffin is starting a "pit" this year in their marching band, so she'll be playing bells & such - and doesn't have to report to camp until Aug 14 (4 days later than originally planned). She's super thrilled - knows what she'll be doing, has a few more days at home, etc.
Now to get K's party planned (Friday the 13th) and get the scrapbook completed. We've got about 20 "sets" in the binder now but I'm betting I'll fill the other 10 we have at home since I've yet to do her "friends" pages, band, senior year .... I've taken pictures of those done to add here - just haven't had the time to sit & upload.
We're to get strong storms this afternoon & evening. *sigh* I pray everyone stays safe through all of this weird weather that's been assaulting our country lately. Oh - and - GO WINGS!!!!!