Cathey has blessed me with another award! Thank you, dear one!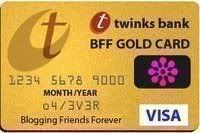 Here are the rules:

1) Only five people allowed.
2) Four of them have to be dedicated followers of your Blog and one has to be new and live in another part of the world.
3) You have to link back to who gave you the award.

But ... who to pass this on to??? Some may be repeats ... sorry! Shoot ... who DOES read my blog as a "dedicated follower"??? *lol*
Of course,
Cathey
... If you've never read her blog - please do! She's a talented stitcher with a wonderful sense of humor and a huge amount of courage & strength.
My buddy
Renee
... she better be a dedicated follower or I won't go to First Watch with her ever again! ;o)
Sandy
(yeah, again) ... truly, she's my inspiration when I play with my journaling
Milly
- Ms. Smokin' Needles herself!
Carol
- a very talented artist - and, as I've told her, I really like her "job" portraits down the side of her blog
Again, thank you, Cathey!
To ALL of you who read my ramblings - be you old or new - THANK YOU!